Anastasia PilepchukHélio Oiticica
Brazil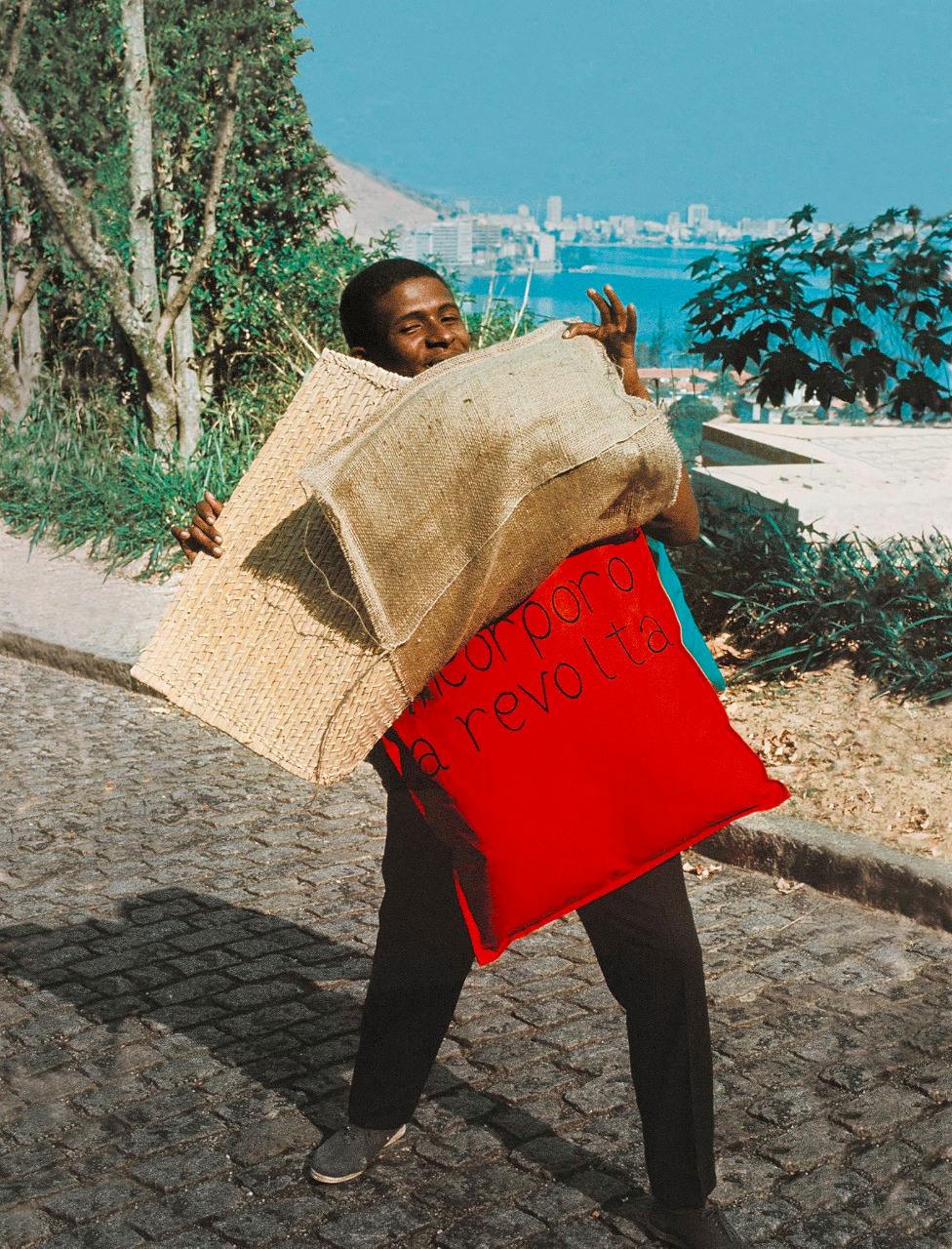 Música, palabras y estructuras de planos de color que envuelven cuerpos que se transforman con cada movimiento singular: lo que la figura puede lograr. Cifras que resumen la naturaleza participativa de los carnavales: participación que involucra la dimensión política del sujeto. Esta dimensión es la dimensión del trabajo total, que disloca el objeto y lo evalúa como un punto de conexión. Anti-arte, no conformidad, complicidad, compartir, desinhibición intelectual y multisensorialidad son algunas de las implicaciones de este trabajo. Cada pieza de tela no es un fin: se transforma de capas, disfraces, pancartas, carpas y banderas. Parangolé (finales de la década de 1960) es el resultado de la experiencia de Oiticica con la comunidad de la Escuela de Samba Estação Primeira da Mangueira, en Río de Janeiro. Digámoslo en una frase: "INCORPORO A REVOLTA", una declaración de trabajo y acción.
Music, words and structures of planes of colour that envelop bodies that transform with each singular movement: that which the figure can achieve. Figures that outline the participatory nature of carnivals: participation that involves the political dimension of the subject. This dimension is the dimension of the total work, which dislocates the object and appraises it as a point of connection. Anti-art, nonconformity, complicity, sharing, intellectual disinhibition and multi-sensoriality are some of the implications of this work. Each piece of fabric is not an end: transforms from cloaks, to costumes, to banners, tents and flags. Parangolé (late 1960s) are a result of Oiticica's experience with the community of the Samba School Estação Primeira da Mangueira, in Rio de Janeiro. Let's say it in one phrase: "INCORPORO A REVOLTA", a work-action statement.
More:
https://www.tate.org.uk/research/publications/performance-at-tate/case-studies/helio-oiticica