Baroness Marie-Hélène de Rothschild
France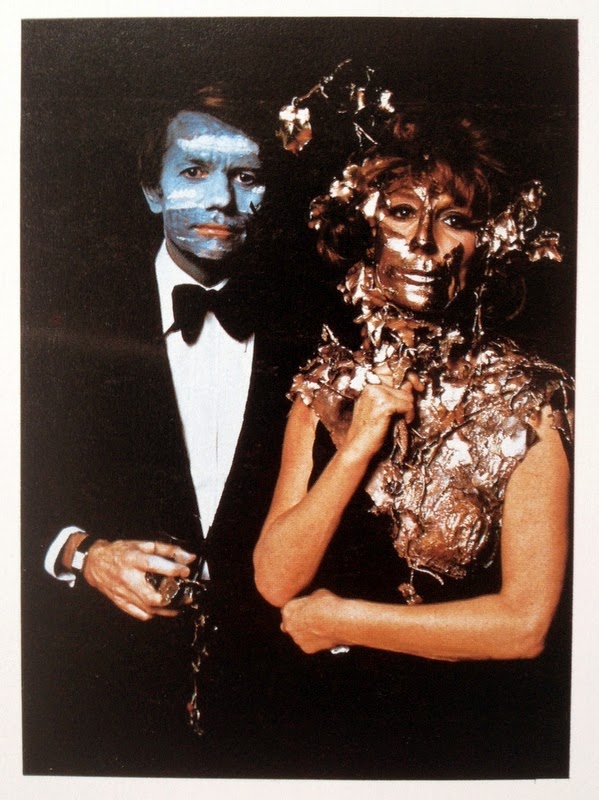 La fiesta organizada por la baronesa Marie-Hélène de Rothschild y su esposo Guy en el Chateau de Ferrières en uno de los castillos más lujosos de Francia. Disfraces diseñados por Salvador Dalí, Audrey Hepburn con un sombrero de jaula de pájaros y un laberinto lleno de mayordomos que fingen ser gatos. El 12 de diciembre de 1972, la noche de la obra maestra surrealista. Se enviaron invitaciones con instrucciones escritas al revés, el código de vestimenta. "corbata negra, vestidos largos y cabezas surrealistas". El castillo estaba iluminado como si estuviera en llamas. Los invitados entraron en un laberinto, una experiencia teatral inmersiva en un bosque de telarañas. En la cena, los platos estaban cubiertos de pieles. Las mesas estaban decoradas con tortugas, la comida servida en un cadáver sobre una cama de rosas y los tenedores fueron reemplazados por peces muertos. Marie-Hélène llevaba una cabeza de ciervo con lágrimas de diamantes reales. Audrey Hepburn lucía una jaula llena de pájaros. La fiesta fue considerada una verdadera obra de arte, un laberinto social y satírico, por su ambiente teatral y surrealista.
The party organized by the Baroness Marie-Hélène de Rothschild and her husband Guy at the Chateau de Ferrières in one of the most luxurious castles in France. Costumes designed by Salvador Dalí, Audrey Hepburn with a birdcage hat, and a maze full of butlers who pretend to be cats. On December 12th, 1972 the night of the surreal masterpiece. Invitations were sent out with instructions written backward, the dress code. "black tie, long dresses, and surreal heads". The castle was lit as if it were on fire. The guests entered a labyrinth, an immersive theatrical experience in a forest of cobwebs. At dinner, the plates were covered in skins. The tables were decorated with turtles, the food served on a corpse on a bed of roses, and the forks were replaced by dead fish. Marie-Hélène wore a deer head with real diamond tears. Audrey Hepburn sported a cage full of birds. The party was considered a true work of art, a social and satirical maze, for its theatrical and surreal atmosphere.
More:
https://therake.com/stories/icons/party-animals-the-rothschild-surrealist-ball/